Erling Haaland's agent Rafaela Pimenta is adamant her client will never force his way out of Manchester City, insisting any decision on the player's future will be made with respect for all parties.
Haaland signed a five-year deal when he joined City in the summer of 2022, however, the Athletic have reported previously he has a release clause of £175.5million that becomes active at the end of the current season.
That apparent clause has prompted speculation City will offer the prolific Norwegian a new deal that prevents an early escape route from the Etihad.
Whatever happens, Pimenta says Haaland will not decide his future unilaterally such is his respect for the Premier League and European champions.
She told Spanish publication Relevo: "Erling is the master of his destiny. Not just now but his entire life, 100%.
"[But] You have to use balance. We, club and player, we are all in the same boat. Things have to be talked about, treated in such a way that everyone is okay, comfortable and satisfied with the experience they live together.
"It is wrong to say that Erling does what he wants. It's not true. Erling is always going to do what is good for him and for his club, Manchester City.
"When everyone is willing to make a change, it will be done. He's not the type of player who's going to say 'I'm leaving, bye'. He is not like this.
"And it's not going to happen because respect comes before everything. If they give it to him, he will give it too."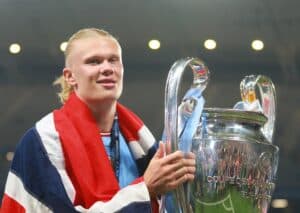 When it was put to Pimenta that a mutual agreement is unlikely given City would be unwilling to part with a man who scored 52 goals in all competitions, she replied: "Respect comes from both sides. I have no doubt that they will respect it too.
"If one day something has to happen, everything will be agreed upon because there is respect for understanding the other's position. Discuss and reach a conclusion. Solutions will always be found."
Check out our other sport stories here:
https://www.businessmanchester.co.uk/category/sport/
Pimenta said Haaland, 23, was happy in Manchester, and his performances reflected that.
"You have to ask him too. And this does not mean the opposite. I know he is, but I don't like to speak for others," she said.
"I see it like this: the sporting result comes when things are good. When there is positivity, harmony, energy… things come."